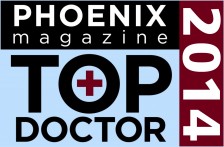 Board-certified Arizona plastic surgeon Dr. Bryan Gawley has been named a Top Doctor by PHOENIX magazine in its April 2014 issue. The designation, which is the sixth for Dr. Gawley, is more recognition of the hard work Dr. Gawley has put in to establish himself as one of the area's most proven providers of plastic surgery.
PHOENIX chooses its Top Doctors by polling medical professionals in the area and asking them to nominate board-certified medical professionals.
The 2014 Top Docs issue was the 20th published by PHOENIX. The magazine has been performing this survey since 1995.
Dr. Gawley founded Gawley Plastic Surgery, Inc. in 2006. Since then, he has helped hundreds of Arizona residents achieve their aesthetic goals by using proven, effective surgical techniques and listening to their needs.
Dr. Gawley and his staff have always committed themselves to providing patients with the care and compassion they deserve. This is evidenced not just by the PHOENIX designation, but by the testimonials of the patients we've helped.
If you're an Arizona resident and you want to learn more about what makes our plastic surgeon and his office so special, please contact Dr. Bryan W. Gawley, MD today to schedule a consultation.